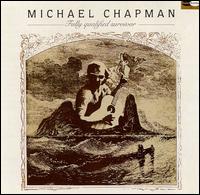 The title of Michael Chapman's break-through, second album showed remarkable prescience if it is seen as being a prophetic comment on his subsequent musical career. The last three decades have seen Chapman ride a series of peaks and troughs, but always retaining his personal musical integrity, if at the cost of the major commercial success of some of his more pliable contemporaries.

But it needn't have been that way. For one thing Fully Qualified Survivor shared many of the same key personnel (Mick Ronson, Paul Buckmaster, Gus Dudgeon) that featured on the early David Bowie and Elton John albums. The mix of acoustic guitar with string arrangements and heavy blues-rock lead guitar, might sound an incongruous combination, but it works well here, and the sound of the record fitted in perfectly with the dominant introspective trends of the era. You could easily imagine a couple of the songs fitting discretely onto Bowie's Hunky Dory. Small wonder then, that John Peel was to describe the album as one of his favourites of that year.

So what exactly is it that makes Fully Qualified Survivor the classic album it is and stops it being merely another interesting period piece? Well, on a simplistic level, the record acts as a useful overview of most aspects of Chapman's career. In the course of the record we hear straight rag-timey instrumentals alongside rocking chordal numbers; hard riffing blues guitar (courtesy of Ronson) mixing with baroque string arrangements (courtesy of Buckmaster); Eastern modes and loose slide guitar sharing space with lyrical torrents of Dylanesque phantasmagoria, and yet still picking up on those small, commonplace, details that often make a song real.

But what unifies all the songs and makes the album special is a shared theme of regret. His lyrics persistently refer to the passing of time, and various forms of decay and failure. This must surely be the response of one of life's born romantics, who is continually disappointed by the vagaries of life and frustrated by the inability of things to be as they should. If it all sounds a little bleak, Chapman at least manages to stoically take comfort in sitting with his dog and making a young man's mock-heroic claim that at last he's got his "loneliness together". For all the subtle instrumentations and clever lyrical observations, we should never forget that Michael Chapman is one of the most rhythmical and percussive of guitarists - listen to "Soulful Lady" to hear how a chord progression can be played with gusto on acoustic guitar, or. the intro to "Trinkets and Rings" to hear how to make a track groove. Finally, Chapman might not always be the most conventionally tuneful of vocalists, but listen to the way he emphasises the word "snide" in 'Stranger In The Room' and deny that his voice communicates disgust better than any tutored vibrato ever could.

Michael Chapman today might be unfairly less well-feted than some of his contemporaries, but he remains, in every sense, a fully qualified survivor.

Written by Steven Wilcock - originally published in Triste 3