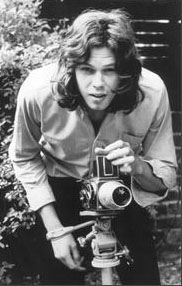 If there is one sure thing amongst all of the drivel that has been said about Nick Drake, it is that he sold about three records when he was alive - and his Mum bought all of them.

Among all of the angst-ridden, navel-gazing early 70's bedsit heroes Drake was distinguished only by his spectacular lack of success. Even in his creative heyday he commuted between a squalid flat in Muswell Hill, his mate's spare room and his parents' home in Tanworth-in-Arden. Country house recording studios and Rolls Royce swimming pool antics were not part of the Nick Drake experience.

All the more mysterious then that Drake's name is regularly dropped by all from Peter Buck to Gorky's Zygotic Mynci. The same is unlikely to happen to Drake's friend and contemporary John Martyn, and most certainly will not happen to his public school chum Chris de Burgh.

To sensibly assess whether Drake was really any good you have to strip away all of the tragic hero bollocks that now surrounds him. When the songs were written, and most of them released, he was very much alive (obviously) and not particularly tragic. He was merely one of hundreds of acoustic toting warblers, many now forgotten, and even the most durable largely relegated to the folk club/art theatre circuit these days.

The voice wasn't up to much either; rather thin, reedy and monotone - witness the failed attempt to reach the lower register on Pink Moon. Unlike Van Morrison (blues), Neil Young (rock) or Richard Thompson (folk) Drake did not have a grounding in any particular tradition. Apart from an unremarkable teenage interest in pop music Drake's songs and style seem to have come from nowhere, although the recent re-discovery of some tapes of Drake's mother's self-written parlour piano pieces suggest at least some familial influence. The established facts offer few clues: colonial birth, upper middle-class upbringing, public school - Oxbridge conveyor belt, then the wheel comes off.

The plucking was pretty average, Drake's collaborators were good or lucky choices. The likes of Danny Thomson, Dave Pegg and the aforementioned Richard Thompson carried things along nicely. Robert Kirby's strings added texture and lent distinction and certainly lifted Five Leaves Left above some of its more anal contemporaries.

One thing that does make the task of evaluating Drake easier is the compactness of his legacy. There are three contemporary releases, the scraping of the barrel retrospective, and that's about it. He was certainly no great collaborator; celebrity jams or guest appearances were mercifully absent. Live gigs were countable on the fingers of one hand and reputedly not much cop.

The thing is, despite wanting to hate him because it's so bloody hip to like him, Drake just gets under your skin. The melodies stay with you, the stripped-down songs like "Know" and "Parasite" get right inside of you and draw you back in for another look. Although there has been a tribute covers album you can't really imagine anyone else singing the songs, they are so personal, tailored to the limitations of the singer as effectively as Dylan or Neil Young. It would be lazy to suggest that the three albums are some kind of picture of a man's decline into depression. You might as well say that Hendrix's work is a picture of a man on an acid trip - there is more to both than that.

Drake managed to time his demise even better than Hendrix. There wasn't even a hint of a decline in standard. It's cozy to think that Hendrix would have shed the substance abuse and Electric Gypsy crap and followed his muse as an experimental jazz musician. He could just as easily have become an embarrassing overweight cabaret artist - unique talent is no guarantee against that. Playing this kind of dumb parlour game with Drake is a lot more difficult. He may of course have sunk into depression and mental illness to the total destruction of his creative talent like Peter Green or Syd Barrett. Depression in itself however can fuel the muse; he may have recovered and totally lost it.

In the Patrick Humphries biography the urban myth that Drake was on the verge of joining the army was effectively dismissed, but that's always been a good one. The thought of our brave hero Nick leading the lads into Goose Green seems about as likely as Richard Branson flying a balloon round the world.

My best guess is that Drake would just have gone on producing consistent and distinctive work for an adoring few. Never really denting the mainstream, never wanting to. Influential, but unfashionable, talented but quirky - a marketing man's nightmare. There are a few contemporaries of Drake who fit this description: John Martyn, Richard Thompson and Roy Harper. Imagine how they would be perceived if any of them had met a tragic fate after their first three albums. A great deal of myth can grow in over two decades; much bollocks can be talked.

The modern equivalent of Nick Drake is probably to be found in Jeff Buckley. Will credibility seeking Sunday broadsheet journalists drop his name sometime in 2024. Will obscure musicians quote him as an influence? Probably. It doesn't mean he was crap though. Personally I don't know because I've never heard his albums. I'm aiming to buy them in 2018, about 2 years before he becomes really hip. Then, like my Nick Drake albums, it will have acquired sufficient patina for me to say that I liked him before all of the bandwagon jumping tossers.

Good plan eh? Smug git!

Written by Paul Gretton - originally published in Triste 1