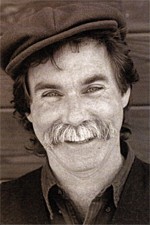 Gene Parsons is a singer, a multi-instrumentalist, a songwriter, an innovative engineer, a nascent author, a fervent environmentalist and a former member of the Byrds and Flying Burrito Brothers. A gifted individual, recent years have seen him building a higher musical profile with his partner Meridian Green, a talented singer-songwriter in her own right.
Triste catches up with Gene and Meridian after their joint performance at the Band On the Wall, Manchester. The audience have been sent away happy after a set encompassing all phases of their careers and featuring some stunning harmonies and instrumental flourishes. Gene still sports his trademark moustache, his handshake is firm and there is still a twinkle in his eye. I wonder if he is as happy as he seemed with his varied life: "Pretty much. One of the things that has taken up a lot of time, in the last couple of years, has been the house. We've been living in a trailer for 12 years and we finally got in the house. A little biddy house but at least it's ours. I've also got a machine shop where I do research and development for musical stuff; and StringBenders, the guitar gadget, has been taking up a lot of our time over the last few years. I'm still busy, but we're kind of at the end of that now. I intend to get back to doing more music in the future. So yes, I suppose I am pretty happy."
Gene Parsons was born on the family homestead out in the Mojave Desert, California in 1947. Life on the farm obviously suited him and many of the stories he relates to illustrate songs in his current set come from this period of his life. He developed an early interest in music and could often be found in an empty water tank practising his banjo using the metal walls as natural reverb. The fact that his long-awaited autobiography is titled "Sweet Desert Childhood" (after his song of the same name) is no coincidence.
Parsons musical progress was further advanced by meeting up with guitarist/fiddler Gib Guilbeau and played with him on bass in a band called the Castaways and later Cajun Gib and Gene. A little later they linked up with Clarence White, the guitarist extraordinaire with the bluegrass Kentucky Colonels, and formed the electric country band Nashville West named after the club where they generally performed. Clarence White had recently taken up electric guitar and was making rapid advances in his playing. Many years later a recording Gene made of one of their live shows was used as the basis for the album Nashville West which showcased White's fiery playing.
I wonder whether it was inevitable, looking back with the benefit of 20:20 hindsight, that the band Nashville West was only going to be a stepping stone to bigger things or did the band have bigger ideas for themselves? "I really looked at Nashville West as just a job being the house band at the Club Nashville West." Gene replies. "But it was good fun though!"
Towards the end of their time with Nashville West Parsons and White were involved in one of the great 'what-if scenarios' when they joined up with the Byrds' bassist Chris Hillman and Gram Parsons (no relation) to record a few try-outs for an embryonic version of the Flying Burrito Brothers. Like many fans of the Byrds and the Burrito Brothers I would love to know what happened, but Gene is a little hazy about the details. "I can't remember exactly when it was recorded, but Hillman was still in the Byrds and Clarence and I had not yet joined. Now remember this was over thirty years ago and it's a bit foggy in my memory. I think we played some old covers but I don't honestly recall." The prototype band conformed to the perfect country rock template and it certainly looked like it had all the ingredients for success? Why didn't the band happen? "The chemistry wasn't quite right, I guess." replies Gene.
How did he find his near namesake Gram as a person? He had somewhat of a reputation for being a little difficult. Gene's reply is understated, but says enough: "Gram Parsons was a little hard to get on with at a personal level". I suppose it just goes to show that personal graciousness and genius don't always walk hand in hand.
History goes on to show that first White and then Gene Parsons ended up joining the Byrds in late 1968. The Roger McGuinn, Hillman, White, Parsons line-up played just one gig before Hillman threw down his bass and left to join up with Gram Parsons in a new line-up of the Flying Burrito Brothers. This left McGuinn as the last remaining original member of the Byrds. These later incarnations of the Byrds are often unfairly derided in comparison with the band's earlier line-ups. Although nowhere near as influential and creative in as many musical fields, the latter era Byrds perfected the country-rock style first essayed on Sweetheart of The Rodeo by the Gram Parsons and Chris Hillman line-up, and it was this style which was to prove influential in the early 70's. The general standard of songwriting may not match the early Byrds, but the best of the material was exceptional indeed, and on stage the band came alive in a way the original band never managed. As Matthew Sweet recently observed, if the Byrds had been renamed when Roger McGuinn had become the sole surviving original, then they would have been rightly recognised for the country rock fusion they developed.
The first album Clarence White and Gene Parson made with the Byrds was Dr Byrds and Mr Hyde, which was atypically murky for a Byrds album and on which Roger McGuinn took all the lead vocals. Gene Parsons introduced former colleague Gib Guilbeau's 'Your Gentle Ways Of Loving Me' to the band, but wasn't he disappointed that he didn't get to sing the song?"I was just glad to have one of Gib's tunes recorded by a major band. I was not hired as the lead singer" replies Gene.
The album was the Byrds worst placing album ever, reaching only 153 in the Billboard Charts. To re-group, they replaced producer Bob Johnston with Terry Melcher, who had produced their earlier works, and recorded the clean sounding and reflective Ballad of Easy Rider. With McGuinn 's songwriting being distracted by his project for the musical "Gene Tryp" it was left to the rest of the band to supply suitable material including such Gene Parsons and Clarence White favourites as 'Jesus Is Just Alright', 'Oil In My Lamp' and 'There Must Be Someone To Turn To' as well as McGuinn's folk influences and the usual Dylan cover. Surprisingly the mix of disparate elements worked; the title track was McGuinn's best composition since The Notorious Byrd Brothers and was matched by Gene Parsons' strongest song with the Byrds, 'Gunga Din'.
As Parsons has recounted many times before, the lyrics of 'Gunga Din' faithfully reflect events on the Byrds tour. The line about flying backwards into LA on a DC8 actually describes the seating arrangements pretty accurately. "The seating layout back then was much more akin to rail car arrangements. Ah, the good old days!" he sighs. Disappointingly the tag phrase in the song -"Gunga Din"itself - has no relevance to Kipling or the later film. It was thrown in simply, "just for a rhyme".
The Byrds' next album (Untitled) was their last great record; a double LP consisting of one disc of high-octane, live rock, mixing old and new tunes, and another of top quality studio tracks including the songs McGuinn had saved from his abandoned "Gene Tryp" project. The recent CD reissue also contains a second disc of unissued material including a studio version of 'Lover of The Bayou' with Gene Parsons prominent on wailing harmonica. Among the out-takes there is also a fine version of Lowell George's 'Willin' with Parsons taking lead vocals on a song he later re-cut for his first solo album and which is still a highlight of his live shows. Why wasn't it included on the next album? Was this a song that he was saving for his first solo album? "I don't think Roger really liked the song or the idea of me singing it. He was the one signed with Columbia, so he and the producer had the last word. I didn't really seriously start thinking about a solo album until Roger fired me."
That was still two albums away, but unfortunately the promise of (Untitled)was not maintained and led on to two of the Byrds weakest efforts. Gene Parsons was particularly scathing, at the time, of the Byrds' next album Byrdmaniaxwhich was released in the Summer of 1971. The album contains probably the weakest material on a Byrds album, with the band being generally distracted from the project. Parsons claimed he disliked the addition of Terry Melcher's strings to several of the tracks. His opinion has only slightly mellowed in the intervening years? "Byrdmaniax is still one of my least favourite albums, although it's a little easier to listen to now."
The Byrds seemed to have a shortage of good original material to pick on at the end of the sixties. Did Gene ever feel that his songs were being pushed back in the pecking order. A lot of material was released on his first solo LP Kindling just after the Byrds folded. Was there ever a feeling, at the very end of his time with the Byrds, of saving any newly written songs for his own album? "Clarence was very receptive to my ideas and would usher in the song to the group if I had an idea he liked. Of course Skip Battin was accepting of me too, but there were a few things that were kept behind."
At this period the Byrds were going through a troubled and traumatic time with their personal lives. Perhaps this didn't help with writing songs? "That might be part of it," he agrees, "Coupled with the fact that we were working like slaves touring. Plus, Clarence and I were recording extensively with other artists when we were not on the road. Also, there was a bit of a falling out with Roger towards the end for various reasons."
If the Byrds showed signs of drying up in the studio, on stage they were showing that they were light years ahead of their earlier incarnations when it came to playing live and superior to the contemporary versions of the Flying Burrito Brothers, who had something of a reputation for inconsistency. Gene agrees with this assessment, but modestly lays most of the praise at the feet of his friend and band's lead guitarist Clarence White. "He just blew everyone's mind. He blew my mind every single night I played with him. He was the best guitar player I ever worked with. I don't think I'll ever see another guitar player as good as he was."
What was it like playing with McGuinn? Obviously there was a little tension at the end? "You could say it was a little dodgy," he replies and laughs. "We had our differences. Some nights it was great. Some nights it wasn't so great. When it was all right it was really fun."
A flavour of the less orthodox side of touring can be found in (Byrds sound engineer) Dinky Dawson's autobiography, "Life On The Road", where he calls Gene Parsons, "One of the true gentlemen of the west", as well as recounting some outrageous "road fever" stories. Gene remembers those events: "They were great fun, but life isn't as sedate now as you might think. It is still quite exciting in a different way."
The Byrds finally faded away with Farther Along at the end of 1971, which featured a more stripped down production style and is an improvement on Byrdmaniax, but still lacked inspiration. Gene Parsons was sacked by McGuinn in 1972 on tour, shortly before the rest of the band finally imploded. McGuinn resurrected the original Byrds line-up in 1973 for an unsuccessful reunion album and the Byrds' flyte was effectively over.
Gene Parsons was not unduly worried by McGuinn's attempt to revivify the Byrds corpse, as the same year saw the release of his first solo album Kindling. The album saw some of Gene's finest work, but proved to be something of a musical dead end. Gene explains why. "Kindling received rave reviews in 'Rolling Stone' and other major trade magazines. If you will remember it was about that time that Clarence was killed. With the passing of Clarence so also passed my desire to play music. I asked to be released from my contract with Warner Bros. (much to the disappointment of my manager and producer). It was a devastating blow to my music career and I knew it at the time, but I couldn't help it. I had to put my instruments away for several years. It was a long time before I could play them again without tears of grief over the loss of my dear friend Clarence."
Gene's way back into music came when he joined a later, reformed version of the Flying Burrito Brothers, along with his old friend Gib Guilbeau. Was that a more relaxed experience than the final days with the Byrds? "It was in some ways and yet it was tenser in others. It was good when we first started out, then there was a parting of the ways musically and that was tense."
This was the period in the mid 70's when too many ostensibly country-rock bands were losing their way (and their roots) in trying to achieve that slick, over-produced sound that defined West Coast AOR. Incredibly, some members of the band wanted to incorporate current dance elements in the band's sound, even though Gene had his doubts. "Well Sneaky Pete Kleinow (the pedal steel player) wanted to play disco music. He said that was the thing. I said to him, 'I know you're the best pedal steel guitar player around and I know that you can do it and it's not a problem. But you're the best dooey-dooey player in the world why would you want to do it?' It was a passing phase with him and the guys wanted to go very commercial, and I've nothing against that, but we did have a little parting of the ways musically. Although some of the stuff we recorded was great, I think, some of it was crap - out and out crap."
Gene left the Flying Burrito Brothers in 1978, although a couple of live albums would be released years after. He released a second solo album Melodies in 1979, which had more of a pop feel than Kindling and included Albert Lee on lead guitar on several of the tracks. "I love Albert as a guitar player and a person," says Gene. "He played some really great stuff on Melodies, but I don't think he used a StringBender."
In fact, the development of the device he had invented with Clarence White, to simulate the bend of a pedal steel guitar on a normal 6-string, would take up a lot of the next period of his life. Most of Gene's music is played on acoustic and developing a model to work on an acoustic took a lot more time. I ask if the device is heavy and if it affects the acoustics of the guitar? "No, it's not actually. It's taken me 15 years to develop. It's made of cast magnesium alloy. It weighs less than 8 oz. It's very light and doesn't touch the top of the guitar at all and retains its tone completely - even when the guitar is used purely acoustically".
In the mid-eighties Parsons began performing with Meridian Green, who also helped to sort out his business interests and generally revitalised his life. The first fruits of this partnership was Birds Of A Feather in 1988. Meridian explains how they met up. "In the beginning it was a typical small town acquaintance, meeting at the cafe, seeing one another perform. It was several years before we were both unattached and available and from that point on everything has been pretty much inevitable! The music meshed from the beginning and the vocal blend is and always was, from the first moment, effortless. Until he decided to take a sabbatical we've been playing as a duo. From time to time we play with a band, but not as regularly as we have in the past. Making music with Gene is, as ever, mighty sweet."
Meridian released her first solo album, In the Heart Of This Town, in 1998, with a lot of input from Gene. I wonder if he regularly works with Meridian when writing songs? "She and I have written together," he says. "But she's writing songs more often than I am right now. I'm not very prolific at the moment; I've only written a couple of new songs over the last year. I've been involved in other things. I've also got some completed songs that I've written in the past that nobody's heard that will be coming out eventually - enough for an album anyway. I'll eventually write some more - I'm not going to worry about it."
Despite going through a fallow period, what normally inspires him to write? "Usually a new instrument or a new tuning. I go through spells where I'm hung up on the banjo or the steel guitar for a while. It usually comes from the instruments. Every once in a while lyrics will precede everything else, but it's pretty rare. It's usually the music first. I might have some refrain or a fragment of a tune or a favourite lick on the guitar that I'll try and incorporate into a song."
Whether the songs are flowing easily or not Gene Parsons appears a contented man and, with Meridian Green, can be guaranteed to continue producing music, which is, as she says, "mighty sweet".
Written by Steve Wilcock - Originally published in Triste 3