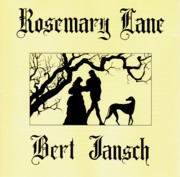 Bert Jansch has been making for over four decades now, but his recorded legacy has been a periodic cycle of peaks and troughs. The highlights have included his influential, self-titled, debut album; his deepest exploration of traditional folk tunes and DADGAD tuning on Jack Orion; his 80's "comeback" with Heartbreaker, and his recent popular resurgence starting with When the Circus Came To Town. None of these albums, good as they are in their own way, sums up what Bert Jansch is about as well as his 1971 album Rosemary Lane - made whilst on a sabbatical from Pentangle. The essence of what makes Bert Jansch special is difficult to define - Colin Harper recently spent a whole book ("Dazzling Stranger") trying to pin him down and gallantly failed, although in the process he provided an excellent general account of the 60's British folk revival - but Rosemary Lane gives the most balanced, album length encapsulation of the various aspects of his appeal.
The one constant in Jansch's career has been his fundamental shyness - at times, with the aid of alcohol, he has been able to mask this; at other times, it has made him appear to be ornery and uncommunicative. It should come as no surprise that Jansch should feel ill-at-ease in the sterile environment of a recording studio and that many of his most successful albums have been recorded in domestic settings. The tracks, which were to make up Rosemary Lane, were laid down over a series of months in 1970/71 on a portable tape recorder by Bill Leader at Jansch's cottage in the Sussex village of Ticehurst - recording only when Jansch was in the right mood. Pentangle, at this time, had peaked artistically and Jansch had started his slow, unconscious withdrawal from the messy business affairs and artistic compromises of being one member of a group of five talented individuals. The result of these two factors led to a stark and reflective stillness being present in the music which gives the album a timeless quality.
In an album of short songs the "trad. arr" numbers are the longest, with "Rosemary Lane" and "Reynardine" being the stand out tracks. The former is founded on Jansch's empathetic vocal from the point of view of the female seductee and shows his voice, at his very best, to be worthy of his guitar playing. The latter song epitomises Jansch's style of guitar accompaniment and commences with an atypically, flashy, introductory instrumental flourish.
The presence of several "early music" styled instrumentals showed that Jansch could "do a Renbourne" as well as his guitar-playing partner, but perhaps his passionate playing was more suited to the earthier original material of his autobiographical "Nobody's Bar" and "Wayward Child" than 16th century virginals. The original love songs, which complete the record, are dreamy, but heart-felt, but what really comes across after listening to the album, is not so much the individual songs, but the overall unity of the album. As a place to start your search for Bert Jansch, or as an introduction to British folk music, you could do much worse than start here.
Written by Steve Wilcock - Originally published in Triste 4